Scam Bait Collage (2018-02-21)
Die Collage, die auch auf meinen neuen Scambait-YouTube-Channal als Banner genutzt wird: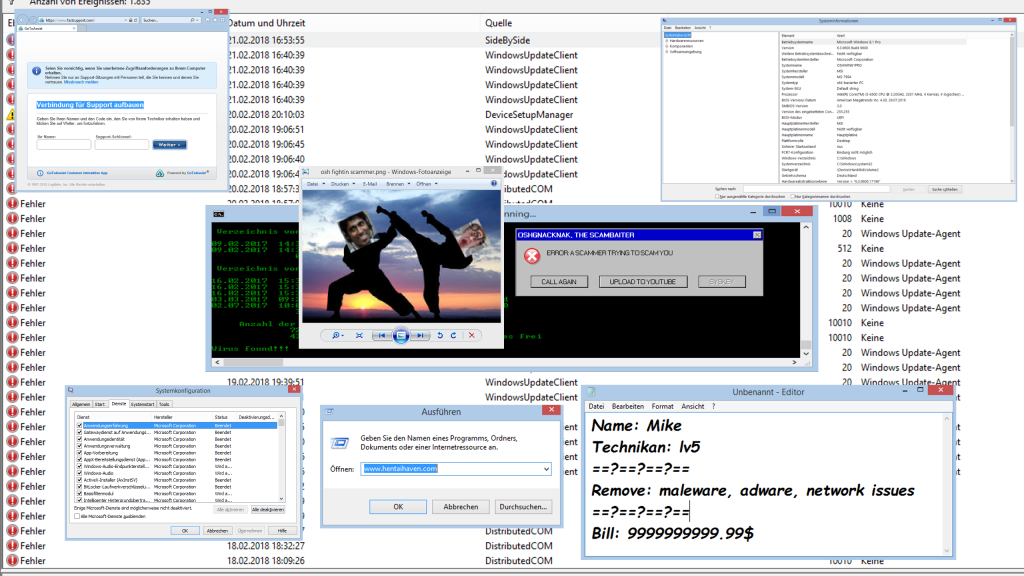 About tech support scam:
Wikipedia: "
A technical support scam refers to a class of telephone fraud activities, in which a scammer claims to offer a legitimate technical support service, often via cold calls to unsuspecting users. Such cold calls are mostly targeted at Microsoft Windows users, with the caller often claiming to represent a Microsoft technical support department.
In English-speaking countries such as the United States, Canada, United Kingdom, Ireland, Australia and New Zealand, such cold call scams have occurred as early as 2008[1] and primarily originate from call centers in India.[2]
The scammer will typically attempt to get the victim to allow remote access to their computer. After remote access is gained, the scammer relies on confidence tricks typically involving utilities built into Windows and other software in order to gain the victim's trust to pay for the supposed "support" services, when the scammer actually steals the victim's credit card account information, or to persuade the victim to login to Internet banking—lying that a secure server is connected and that they cannot see the details—to receive a promised refund.
"